Choosing the perfect holiday for your first independent holiday can be daunting. You're 18, keen to party, yet want to see the world. Have you ever considered cruising, yet been uncertain due to the surrounding stereotypes?
I'm Hannah, I'm 18 and I've cruised since I was one year old. Recently I did my first cruise without my parents and I was shocked by the response I received from my friends when I told them I was ditching the norm of an all-inclusive in a party destination for a seven night voyage around the Western Med.
Here are some of the myths that were identified in contrast to the actual reality.
Myth One; It'll be 'boring'
You're young, you're looking for a party. Every teenager is guilty of loving a good boogie. One of the main misconceptions of cruising is that it'll be boring, especially for us teens. However, you are never far from a party, or adrenaline rushing on board adventures. Larger cruises have everything from ice skating to zip lines, as well as the essential necessities to a holiday such as swimming pools. Most cruises are known to have nightclub on board, and if not there is assured to be nightly entertainment!
Myth Two; Everyone will be members of the 'Blue Rinse Brigade'
When people think of cruising they think of bingo, shuffle boarding and ballroom dancing. It's almost hard to believe that on board cruises such as the Oasis Of The Seas there are two flow riders, a zip line and a rock climbing wall. Every cruise will have something for everyone; as cruising is multigenerational and something that can be enjoyed by every age demographic.
Myth Three; Cruising is expensive
For students on minimum wage jobs, the idea of cruising could be completely ridiculous and just a dream, but cruising isn't as expensive as thought. Personally, I believe cruises are the best holidays for value for money. Whilst on board you get all you food included, and trust me it is good. Also, you get all the extra amenities such as top class entertainment and some of the most beautiful destinations included in the price. Furthermore, there are different levels in pricing when it comes to choosing the right package for you. I opted for the inside cabin, which was the cheapest option and bought a soft drinks package for $89. This ensured that I got the perfect accessible option for the voyage.
Myth Four; You always have to dress formally
For me, I see cruising as an opportunity to dress up and be more formal than I would be on a day to day basis, although this isn't the same for everyone. On a typical seven-nights of sailing, you will not get any-more than two formal nights, and even on formal night everyone's definition of dressing up is different.
Myth Five; Cruises aren't modern
Quite often I have been asked if the cruises I go on are like the titanic! I ignorantly laugh even though I can understand why people may think that. The reality although couldn't be further from the myth. On board every cruise you find spectacular, modern design.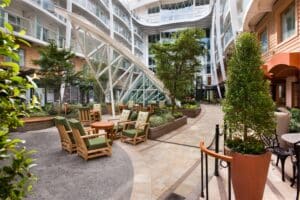 Myth Six; You'll get sea sick
One concern a lot of people have with travelling on a cruise is sea sickness. Obviously, every person differs but from my seventeen years of cruising I can't recall ever feeling sea sick. Obviously, itineraries differ and cruises sail in different places, so some parts of the world will be choppier than others yet the slim risk of sea sickness shouldn't put you off.
Myth Seven; The food selection will be sub-par
Often you hear the typical, 'oh there will just be junk food' on board. This perception of the Americanisation of cruise holidays is not true! In reality there are several options of fresh and healthy eating. As-well as this, cruises cater to everyone: vegans, vegetarians and those with intolerances.  This means that you are never short of a nutritious meal, or any kind of food you happen to desire.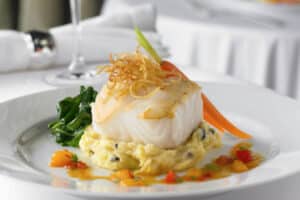 Myth Eight; You will be stuck on a ship
Every cruise goes to breathtaking destinations. But in order to get to those places there may be days at sea. Within these days people may believe they will be bored and be stuck doing nothing, yet the day will be jam-packed with adventure from the morning to the night. Sometimes, the days at sea are my favourite because these are the days that you get a chance to relax and truly do what you want to do!
Myth Nine; You won't get enough time at ports of call
At every port of call you get the day to explore. More times than enough this is the perfect amount of time to explore a place. Even though there are some cities that you can't see in one day, there is still plenty of time to immerse yourself in the local culture.
Myth Ten; You have to do everything straight away
Relax. It's your first day and you don't need to do everything straight away. It is easy to fall into the trap of being like an excitable puppy, I mean who wouldn't be on board a floating paradise? However, onboard there is so much to do, just take a breather and do things as they come. The worst thing you can do is rush to do everything the first day then be disappointed the rest of the voyage.
Cruise365 have special offers in 2020 on the Oasis of the Seas sister ship ' Allure of the Seas' from only £999 including return flights, transfers, 7 Night Cruise with Meals included.  To find out more please call 01388 767 222