We all need something to look forward to and at Cruise365 we are delighted to showcase Jewel of the Seas and her amazing European Fly Cruises in 2022
Jewel of the Seas has always been a favourite with the British Cruise guest and Cruise365 have some exclusive early booking prices on some fabulous itineraries.  For an ultimate Bucket List trip sail above 66° North into the Arctic Circle to co-inside with the Summer Solstice, this is the time to witness the famed 'Midnight Sun' where literally the day does not turn into night.
Combine 2 or more cruises to see more and enjoy that holiday you deserve with choices in Scandinavia or in Autumn sail the Greek Islands, Spain and Italy.
The Cruise365 prices shown are exclusive to us but be warned these prices are capacity controlled and can increase at any time.
Jewel of the Seas by Royal Caribbean – a Holiday worth Waiting for
Choose from these Amazing Jewel of the Seas Itineraries for Summer 2022,:
Amsterdam  Stay plus Norway & Arctic Circle Fly Cruise from £1,049 including flights
ship visits; Amsterdam; Molde, Norway*; Cruise above 66° North into the Arctic Circle; Tromso,  Norway; Honningsvag, Norway; Alesund, Norway; Flam, Norway; Kristiansand, Norway; Amsterdam
* on 25 July sailing, Jewel of the Seas visits Geiranger instead of Molde
Amsterdam Stay, Noway and above 66° North (Arctic Circle) Fly Cruise
Itinerary
Date
Duration
Inside from
Ocean View from
Balcony from
Junior Suite from
Norway & Arctic Circle
19
Jun
22
13 Nights
£1,049
£1,249
£1,499
£2,399
Norway & Arctic Circle
25
Jul
22
13 Nights
£1,149
£1,349
£1,649
£2,499
Price Includes Return Flights with checked in bags, 1 night stay in 4* Amsterdam Hotel, 12 night cruise (full board) ABTA J9642 – ATOL Bonded
Call 01388 767 222 for more information
Amsterdam plus Iceland & Ireland Fly Cruise from £1,149 including flights
ship visits; Akureyri, Iceland (Full Day, Overnight and Morning);Reykjavik, Iceland (Full Day, Overnight and Morning); Belfast, NI; Liverpool; Cobh (County Cork), Ireland; Amsterdam
Amsterdam, Iceland & Ireland Fly Cruise
Itinerary
Date
Duration
Inside from
Ocean View from
Balcony from
Junior Suite from
Iceland & Ireland
7 Aug
22
13 Nights
£1,149
£1,349
£1,649
£2,499
Price Includes Return Flights with checked in bags, 1 night stay in 4* Amsterdam Hotel, 9 night cruise (full board) ABTA J9642 – ATOL Bonded
Call 01388 767 222 for more information
Amsterdam plus Norwegian Fjords Fly Cruise from £975 including flights
ship visits; Akureyri, Olden, Norway; Flam, Norway; Geiranger, Norway; Alesund, Norway; Kristiansand, Norway; Amsterdam
Amsterdam & Norwegian Fjords Fly Cruise
Itinerary
Date
Duration
Inside from
Ocean View from
Balcony from
Junior Suite from
Norwegian Fjords
30
Aug
22
10 Nights
£975
£1,099
£1,289
£1,899
Price Includes Return Flights with checked in bags, 1 night stay in 4* Amsterdam Hotel, 12 night cruise (full board) ABTA J9642 – ATOL Bonded
Call 01388 767 222 for more information
Amsterdam to Tarragona, Spain Fly Cruise from £899 including flights
ship visits; Amsterdam; Zeebrugge (for Bruges / Brussels), Belgium; Vigo, Spain; Funchal, Madeira; Malaga, Spain; Valencia, Spain; Tarragona, Spain
Amsterdam to Tarragona, Spain Fly Cruise
Itinerary
Date
Duration
Inside from
Ocean View from
Balcony from
Junior Suite from
Amsterdam to Tarragona
08
Sep
22
11 Nights
£899
£1,029
£1,199
£1,849
Price Includes Return Flights with checked in bags, 1 night stay in 4* Amsterdam Hotel, 10 night cruise (Full Board), Transfer from Ship to Barcelona Airport  – ABTA J9642 – ATOL Bonded
Call 01388 767 222 for more information
Greece & Turkey Fly Cruise from £1,249 including flights
ship visits; Tarragona, Spain; Sicily (Messina), Italy; Zakynthos, Greece; Chania, Crete; Santorini, Greece; Rhodes, Greece; Ephesus (Kusadasi), Turkey; Mykonos, Greece; Athens (Piraeus), Greece
Greece & Turkey Fly Cruise
Itinerary
Date
Duration
Inside from
Ocean View from
Balcony from
Junior Suite from
Greece & Turkey
18
Sep
22
10 Nights
£1,249
£1,369
£1,549
£2,199
Greece & Turkey
06
Oct
22
10 Nights
£1,249
£1,369
£1,549
£2,199
Price Includes Return Flights with checked in bags, 1 night stay in 4* Tarragona Hotel, 9 / 10 night cruise (Full Board), Transfer Airport to Hotel in Tarragona and Ship to Airport in Athens  – ABTA J9642 – ATOL Bonded
Call 01388 767 222 for more information
Greece, Italy & Spain Fly Cruise from £1,249 including flights
ship visits; Athens (Piraeus), Greece; Santorini, Greece; Katakolon, Greece; Catania, Sicily; Amalfi Coast (Salerno), Italy; Ajaccio, Corsica; Palma De Mallorca, Spain; Ibiza, Spain; Valencia, Spain; Tarragona, Spain
Greece, Italy & Spain Fly Cruise
Itinerary
Date
Duration
Inside from
Ocean View from
Balcony from
Junior Suite from
Greece & Turkey
27
Sep
22
10 Nights
£1,249
£1,369
£1,549
£2,199
Price Includes Return Flights with checked in bags, 1 night stay in 4* Tarragona Hotel, 9 night cruise (Full Board), Transfer Airport to Hotel in Tarragona and Ship to Airport in Athens  – ABTA J9642 – ATOL Bonded
Call 01388 767 222 for more information
Greece, Italy & Monaco Fly Cruise from £1,249 including flights
ship visits; Athens (Piraeus), Greece; Santorini, Greece; Katakolon, Greece; Catania, Sicily; Amalfi Coast (Salerno), Italy; Ajaccio, Corsica; Monte Carlo, Monaco; Sete, France; Tarragona, Spain
Greece, Italy & Monaco Fly Cruise
Itinerary
Date
Duration
Inside from
Ocean View from
Balcony from
Junior Suite from
Greece, Italy & Monaco
16
Oct
22
9
Nights
£1,249
£1,369
£1,549
£2,199
Price Includes Return Flights with checked in bags, 1 night stay in 4* Tarragona Hotel, 8 night cruise (Full Board), Transfer Airport to Hotel in Tarragona and Ship to Airport in Athens  – ABTA J9642 – ATOL Bonded
Call 01388 767 222 for more information
Stay longer and see more, combine two or more cruises to make a longer holiday with very little repetition of ports, choose from:
Norway, Arctic Circle, Iceland & Ireland Combo Fly Cruise from £2,049 including flights
ship visits; Amsterdam; Geiranger, Norway; Cruise above 66° North into the Arctic Circle; Tromso,  Norway; Honningsvag, Norway; Alesund, Norway; Flam, Norway; Kristiansand, Norway; Amsterdam; Akureyri, Iceland (Full Day, Overnight and Morning);Reykjavik, Iceland (Full Day, Overnight and Morning); Belfast, NI; Liverpool; Cobh (County Cork), Ireland; Amsterdam
Norway, Arctic Circle plus Iceland Combo Fly Cruise
Itinerary
Date
Duration
Inside from
Ocean View from
Balcony from
Junior Suite from
Norway, Arctic Circle & Iceland
25
Jul
22
25 Nights
£2,049
£2,449
£2,999
£4,799
Price Includes Return Flights with checked in bags, 1 night stay in 4* Amsterdam Hotel, 24 night cruise (full board), please note this is 2 cruises combined to make a longer sailing, entertainment and menus may be repeated on second cruise
ABTA J9642 – ATOL Bonded
Call 01388 767 222 for more information
Amsterdam to Athens Combo Fly Cruise from £1,689 including flights
ship visits; Amsterdam; Zeebrugge (for Bruges / Brussels), Belgium; Vigo, Spain; Funchal, Madeira; Malaga, Spain; Valencia, Spain; Tarragona, Spain; Tarragona, Spain; Sicily (Messina), Italy; Zakynthos, Greece; Chania, Crete; Santorini, Greece; Rhodes, Greece; Ephesus (Kusadasi), Turkey; Mykonos, Greece; Athens (Piraeus), Greece
Amsterdam to Athens, Spain Fly Cruise
Itinerary
Date
Duration
Inside from
Ocean View from
Balcony from
Junior Suite from
Amsterdam to Athens
08
Sep
22
20 Nights
£1,689
£1,949
£2,299
£3,599
Price Includes Return Flights with checked in bags, 1 night stay in 4* Amsterdam Hotel, 19 night cruise (Full Board), Transfer from Ship to Athens Airport, please note this is 2 cruises combined to make a longer sailing, entertainment and menus may be repeated on second cruise
ABTA J9642 – ATOL Bonded
Call 01388 767 222 for more information
Ultimate Greece, Italy & Spain Combo Fly Cruise from £1,799 including flights
ship visits; Tarragona, Spain; Sicily (Messina), Italy; Zakynthos, Greece; Chania, Crete; Santorini, Greece; Rhodes, Greece; Ephesus (Kusadasi), Turkey; Mykonos, Greece; Athens (Piraeus), Greece; Athens (Piraeus), Greece; Santorini, Greece; Katakolon, Greece; Catania, Sicily; Amalfi Coast (Salerno), Italy; Ajaccio, Corsica; Palma De Mallorca, Spain; Ibiza, Spain; Valencia, Spain; Tarragona, Spain
Ultimate Greece, Italy & Spain Fly Cruise
Itinerary
Date
Duration
Inside from
Ocean View from
Balcony from
Junior Suite from
Greece, Italy & Spain Fly Cruise
18
Sep
22
19
Nights
£1,799
£1,899
£2,279
£3,499
Price Includes Return Flights with checked in bags, 1 night stay in 4* Tarragona Hotel, 18 night cruise (Full Board), Transfer from Barcelona to Tarragona Hotel and ship to Barcelona Airport, please note this is 2 cruises combined to make a longer sailing, entertainment and menus may be repeated on second cruise
ABTA J9642 – ATOL Bonded
Call 01388 767 222 for more information
Call the Royal Caribbean Specialists on 01388 767 222 for expert advice and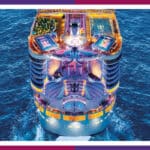 Previous

Article